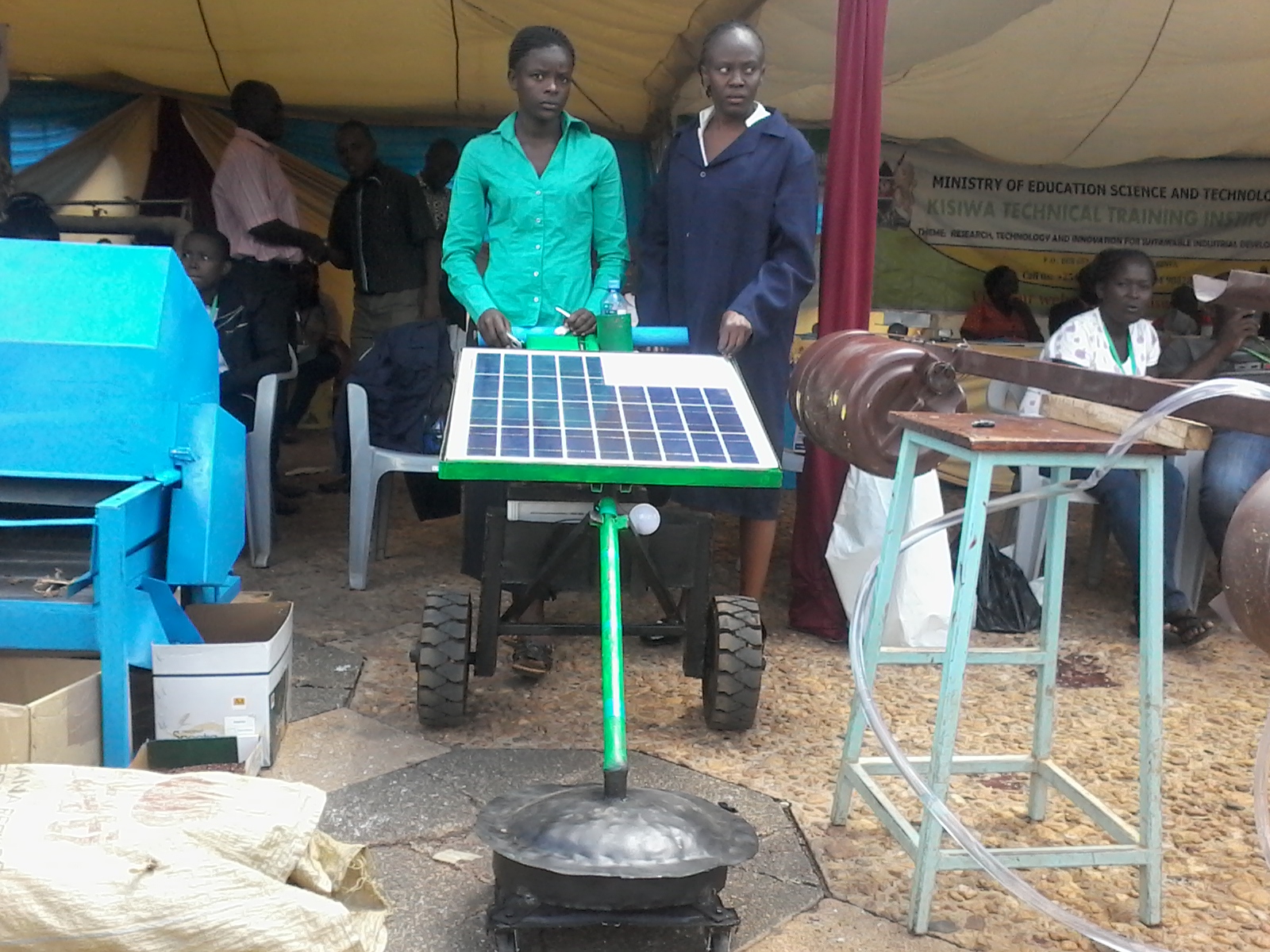 By Loepold  Obi
Two female engineering students from a technical college in Bungoma County, Western Kenya, have come up with a modern lawn mower that does not require diesel to operate.
The mower which comes complete with a rechargeable car battery and a mortar runs on a photovoltaic cells –which is 'green' and environmentally friendly.
The students; Emma Masibo and Lucy Bwire studying automotive engineering at San'galo Institute of Science and technology said the solar powered mower took them four months to put together.
The handheld mower is mounted with a photovoltaic cell which taps solar energy from the sun and stored it in wet cells (car battery)-build under the solar panel. Power from the battery is then transferred via some cables into a mortar which converts electric energy into kinetic energy which propels the mowing plates.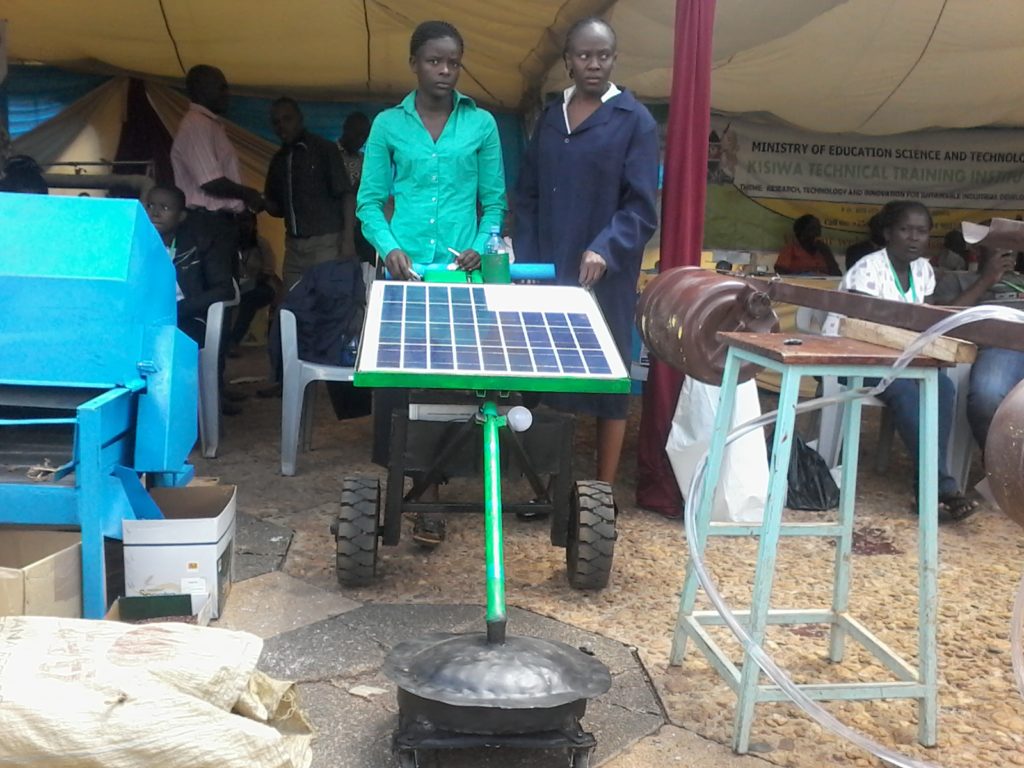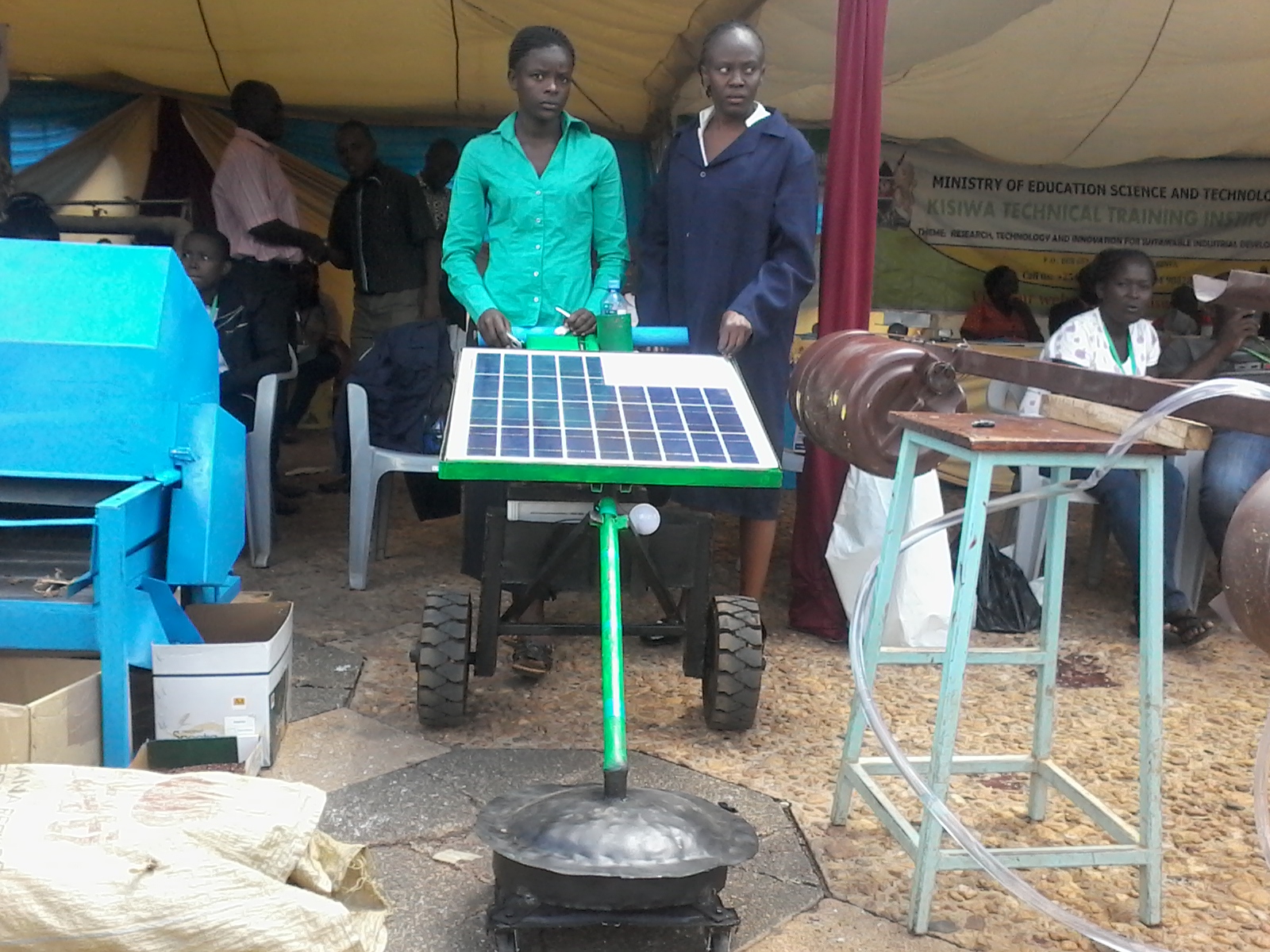 "It also has a detector which enables the user to know whether the battery is charging which also controls the charging system-in case of overcharge it cuts the charging," explained the students who exhibiting their innovation for the first time to the public at the ongoing National Science Week organized by the National Commission for Science, Technology and Innovation (NACOSTI) in Nairobi.
"You can even use it at night-in case you have been busy the entire day-because it has a head light for its lighting," Bwire said.
"Unlike the conventional mowers which are noisy and rely on dirty fuel-releasing toxic gases to the environment -which is a cause respiratory problem, our green mower has no noise and is clean," said Masibo ,a third year student ,adding they spent16,000ksh to put the entire machine together.
They plan to  sell the mover at 18, 000 ksh.They are also planning to build several of the machine so that they are able to meet market demands in the future.
"We are also considering a mower with detachable plates so that it can be used for other domestic activities. The plates can be removed and replaced with a vacuum cleaner or a mope,"
Prof. Njeri Wamae,NACOSTI chairperson, encouraged young innovators to embrace the national science week saying it is an important platform for showcasing innovation and technology.
Permanent Secretary (PS) state department of Higher Education, Prof Collette Suda said there is a great need to invest more in science, innovation and technology so that researchers not only come up with new innovations but also to ensure that such innovations are commercialized for public consumption.
"By investing in science and technology our youth involved in innovation are empowered and that their innovation also end up in industries for commercialization,"Prof Suda said.