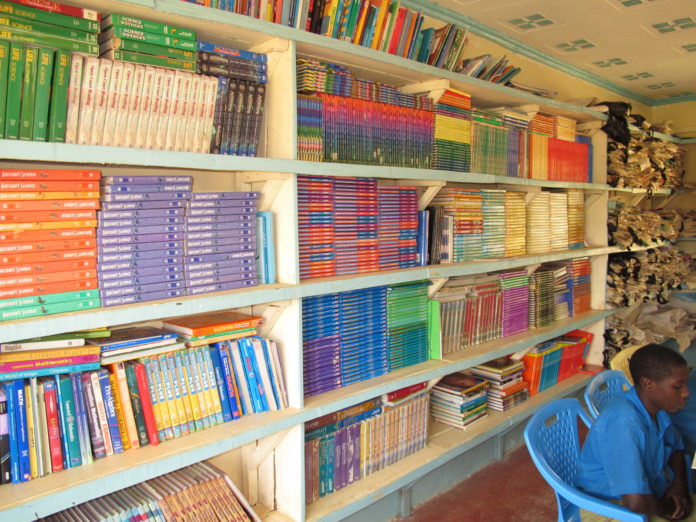 By Lilian Museka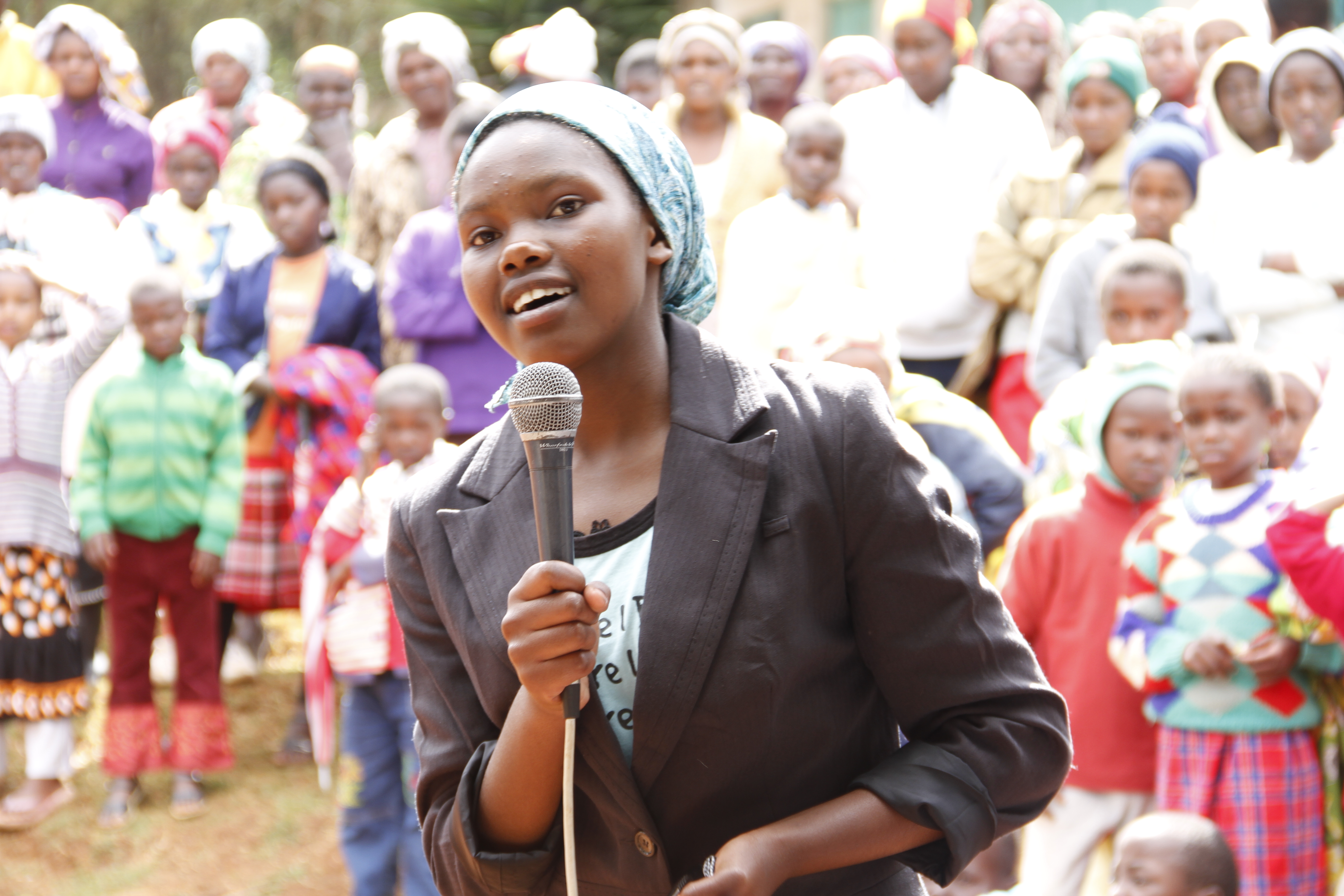 Her mission and passion for promoting education and improving illiteracy levels in Nyandarua County are already bearing fruits. Leah Kibe is not just your ordinary young charming lady, she believes in making an impact in her community.
Leah Kibe is not just your ordinary young charming lady, she believes in making an impact in her community through knowledge.
At  19, Leah Kibe is the director and the brainchild behind the Colour World Green Initiative Library located in Mirangine sub-county. This facility that serves both primary and secondary school students from the region is located within Kahia Academy for security reasons.
Residents access this library between 0900 hours and 1700hours on weekdays and between 1000hours and 1600hours over the weekend.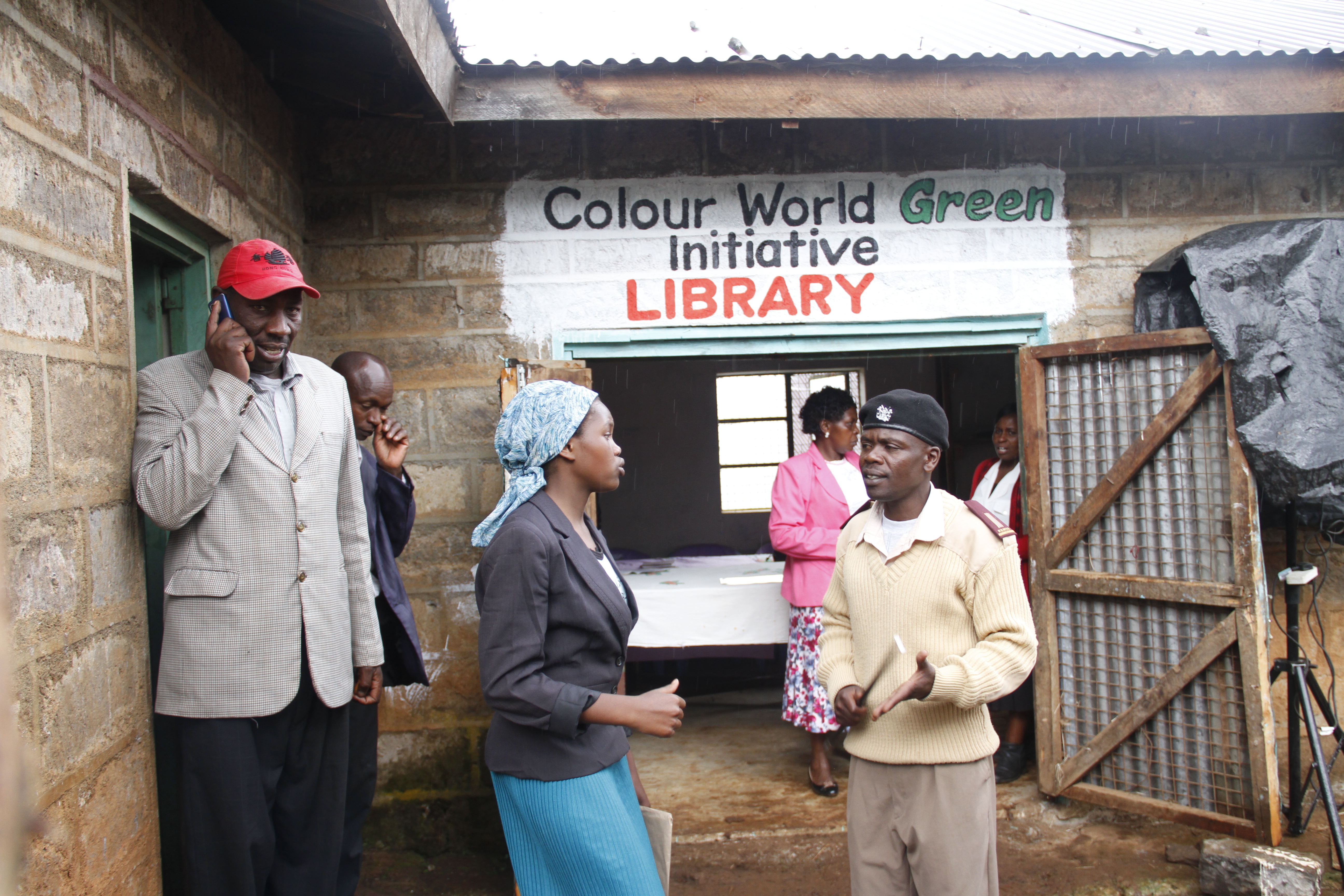 Most books in the library are donations from well-wishers from abroad and locally following Leah's efforts. Duncan Mwangi, the librarian says school children enjoy spending time at the library instead of loitering on the streets. Students are allowed to carry supplementary textbooks for mathematics, science, English, and Kiswahili for their class work both at home and school.
The Kahia Academy Headteacher, Mr. Peter Theuri attributes improved performance in the school to the children's reading culture which has improved since the library was established.  "Last year two of our students scored 402 and 407 marks out of 500 with another 37 scoring over 300 marks," he says, adding that this has also contributed to the children's creativity and communication skills.
Felister Wambui, a class eight student and Ernest Ng'ang'a, a class seven student at Kahia Academy are among the beneficiaries of the library. Fister's reading skills have improved as she is able to write well in English, Swahili, and composition while Ernest who desires to be an architect, has fallen in love with creative books. "I love drawing and have since drawn a sitting Member of Parliament, who was impressed and paid me off. This really motivated me and to this date, I draw people, houses among other things. However, there are not many arts and crafts books on the subject are no longer examinable," he regretfully says.
Mr. Theuri says the school, in partnership with Leah, is organizing for a fundraiser to boost more books in the library. This he says will help them fully accommodate all children in the Mirangine sub-county, where the library is the only one available after the main library which serves the whole of Nyandarwa county.
Leah is currently working at UHAI-East African Sexual Health and Rights Initiative (UHAI-EASHRI), an indigenous activist fund which provides flexible and accessible resources to support civil society activism around issues of sexuality, health, and human rights in East African region.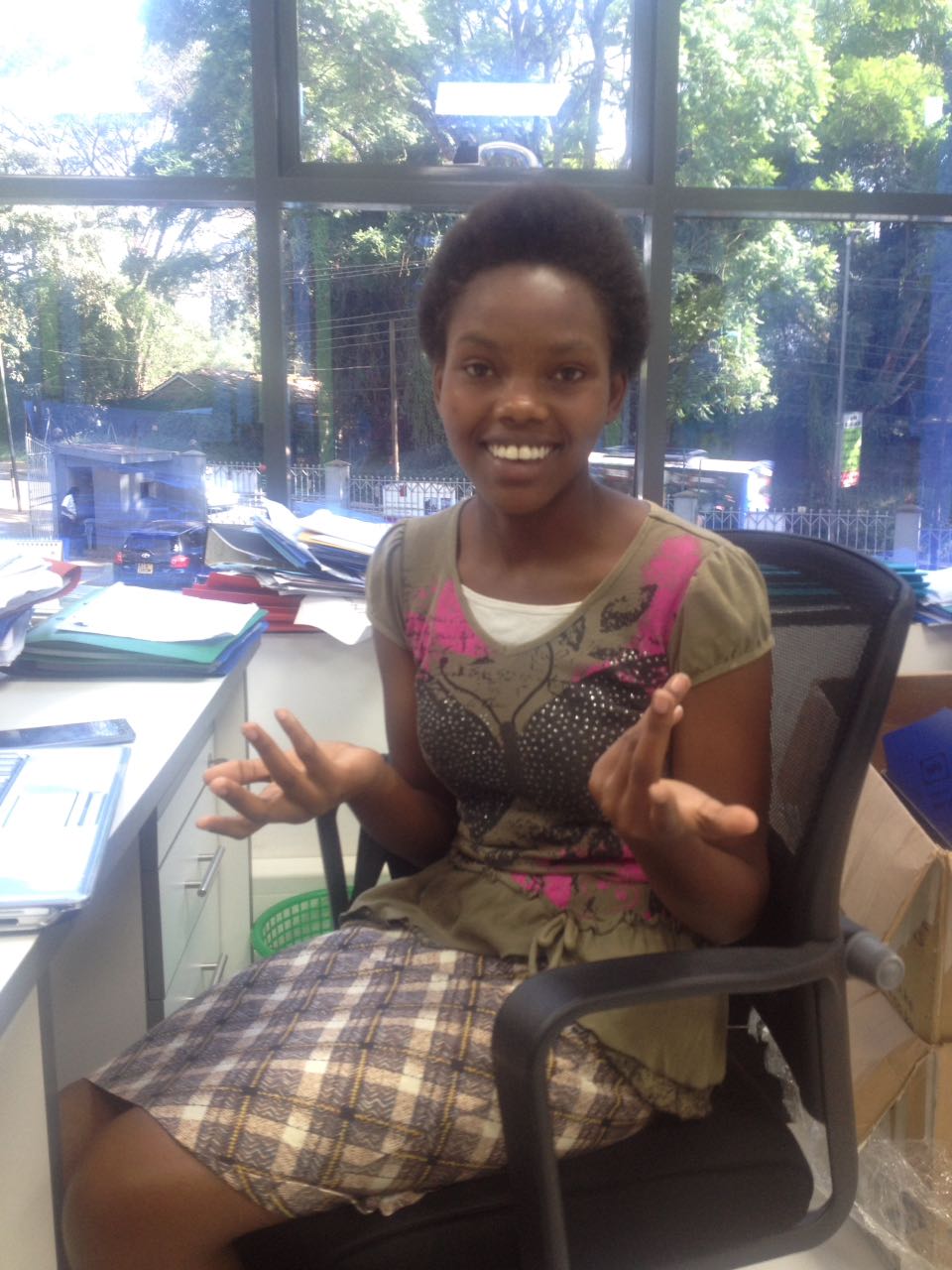 But, Leah's journey has not been easy and she almost dropped out of school due to lack of fees. Having attained 400 marks out of 500, she was almost missing her place at Kenya High School and was only bailed out by well-wishers as her poor parents could not afford the fees.
The fourth born in a family of 10 is a beneficiary of the AkiliDada Scholarship fund, a Non-Governmental Organization, under the Young Change Makers Program.
"My parents were so poor that my uncle had to see me through my primary level where I attained 400 marks in 2011 and got an admission from Kenya High School. However, there was no money for my fees so I just stayed home hoping for a miracle," she says.
Initially, Leah got help from the Ol – Kalou Member of Parliament in Nyandarua County, Hon. David Kiaraho who had intervened after he heard of her plight. However, his help was short lived as it only lasted till the first term of form two.
"It was so traumatizing to imagine I would drop out of school due to lack of fees. That's when I started applying for scholarships including the government bursary. The school principal was very understanding and gave me more time to seek help," she adds.
Help finally arrived from AkiliDada just when Leah was almost giving up having received no response from 12 other sponsors she had sought assistance from. She was one of the five lucky girls out of 50 to have secured a full sponsorship for four years from this organization.
Upon completing high school and excelling in the Kenya Certificate of Secondary Examinations (KCSE), where she attained A- (minus) she received an admission letter to study Fisheries and Aquaculture. However, Leah was not passionate about the course and declined the offer thus opting for a one-year skill based bridge program with AkiliDada, known as GAP.
AkiliDada communications Officer Ms. Ann Njeru explains that the Gap -Year Program recruits East African High school graduates to take part in a 9-12 month program that targets girls aged 17-20 years. "Through intensive skills development training, internship placement, experiential learning and community service engagement, the Gap year program provides a space for these girls to successfully transit to university and beyond, says Ann.
Akili Dada also provides psychological support and personal effects to girls in their scholarship programs. They benefit from an extensive network of devoted mentors who are drawn from a wide range of professional networks.
"Every school holiday, girls on the scholarship program are taken through a five-day residential leadership academy that focuses on different aspects of leadership, offering lifelong learning practices and is designed to adapt to the growing needs of the girls," says Ann
AkilaDada's programming is based on long-term engagement on the same group of girls, four to five years for high school and the Gap Year which is one year for the fellowship program. The organization also provides a one-year leadership training program for ladies who want to become political aspirants.
The programs termed Young Change Makers is spread all over the country with the scholars coming from all over Kenya while the fellowship program has fellows from Kenya, Uganda, Tanzania, and Zanzibar.
Akili Dada has so far awarded 121 scholarships to academically talented girls from under-resourced backgrounds. These girls have come up with social change initiatives in their communities that have directly impacted 27,344 community members.
It is through this thorough and intentional engagement that Leah was inspired to put up a library in her community. The values and virtues imparted on her during the programs have seen her take up challenging opportunities to give back to the community.
" When I was in form one, I was a very shy girl, but AkiliDada's continuous leadership training and designed thinking inspired me to be a leader, to bring change in my community," Leah says adding that "I have grown in confidence and courage to challenge situations. I now know I can contribute to the development of my community and as a result be a role model to others. As a result, the library is my success story that young people can bring positive change regardless of their circumstances."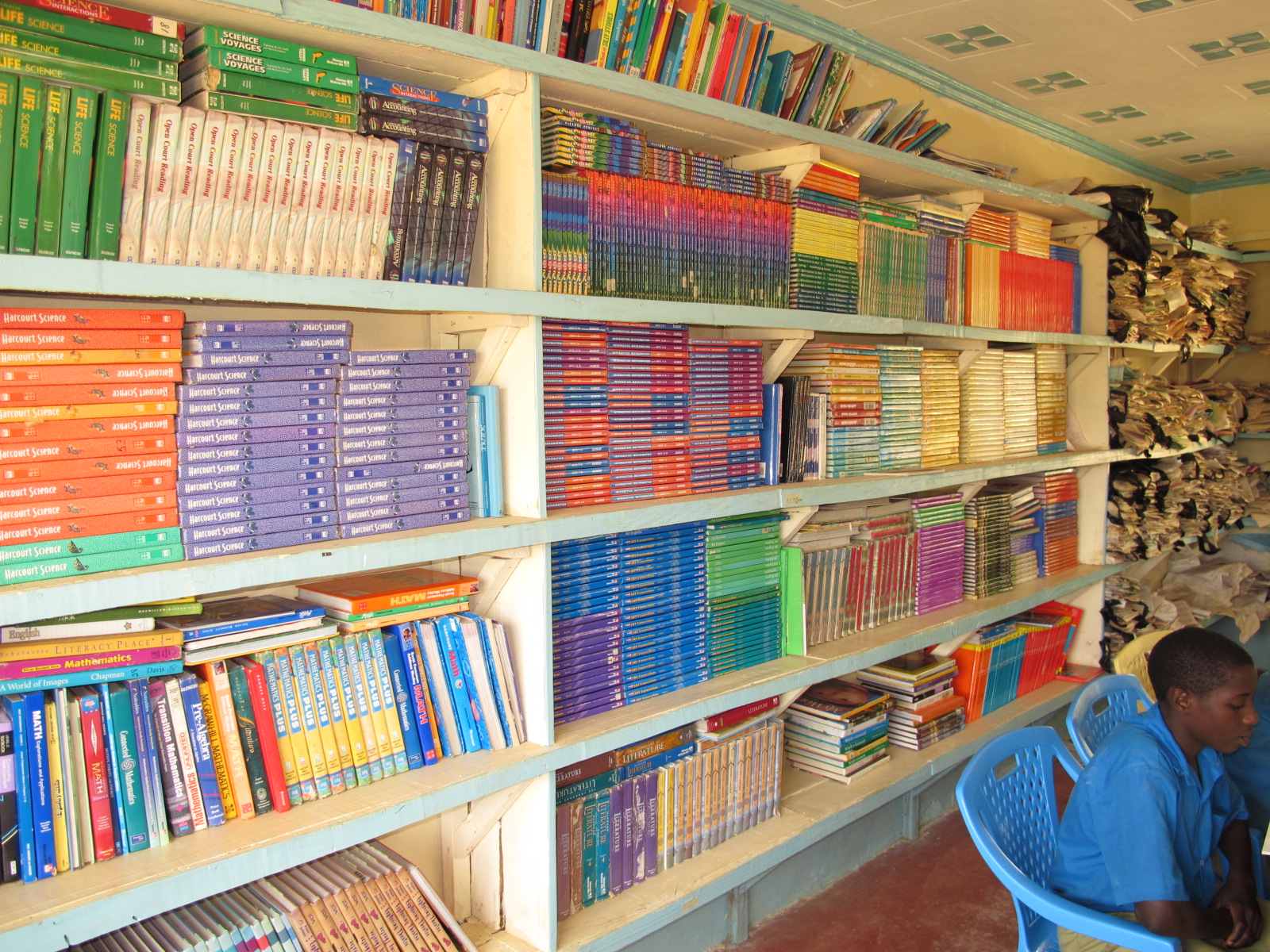 While on her vacation, Leah gave some basic learning materials to her brother who was in class three to read but she noticed he struggled. "This shocked me and I realized something needed to be done," she adds.
"I started collecting story books from friends, relatives, and anyone willing to donate.  I would organize to have children within the community to come at our home and read the books. However, there was a lot of resistance from their parents due to illiteracy levels and also because children were expected to assist with house chores. This, however, only motivated me even more," She says.
Having realized how enthusiastic children were to learn, Leah approached the County Development Fund (CDF) for funds and secured  90,000 KSH  which went towards the establishment of the library.