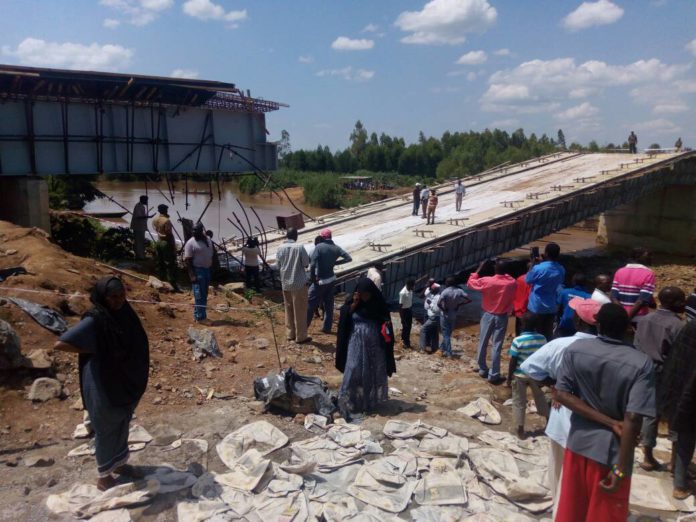 By Okong'oOduya
At least twenty-seven people were injured on early on Monday when Sigiri Bridge along river Nzoia in Budalangi, Busia County collapsed after 80 per cent of the work was completed.
The incident happened three weeks after President Uhuru Kenyatta and his Deputy William Ruto visited the sight promising that the work will be completed before general elections. The Sh1.2billion Sigiri Bridge linking Bunyala North and Bunyala South Wards collapsed from what the locals believe that it was as a result of a shoddy work done one by the engineers.
Addressing the press the residents noted that the contractor failed to do the right thing from day one hence resulting to the collapse. Simon Wabwire, Happy Onyango, Paul Were and Duncan Mbula who are workers at the bridge said they just saw the bridge coming down forcing them to run for their safety.
On the other side the area political leaders including Busia county women representative Hon. Florence Mutua called for urgent investigations to find out the caused the collapse of the bridge before it could benefit the locals.
In a statement to press, Mutua wanted the Jubilee Government to take drastic action against the contractor for the substandard work done that caused the collapse of the Sh1.2 billion worth bridge.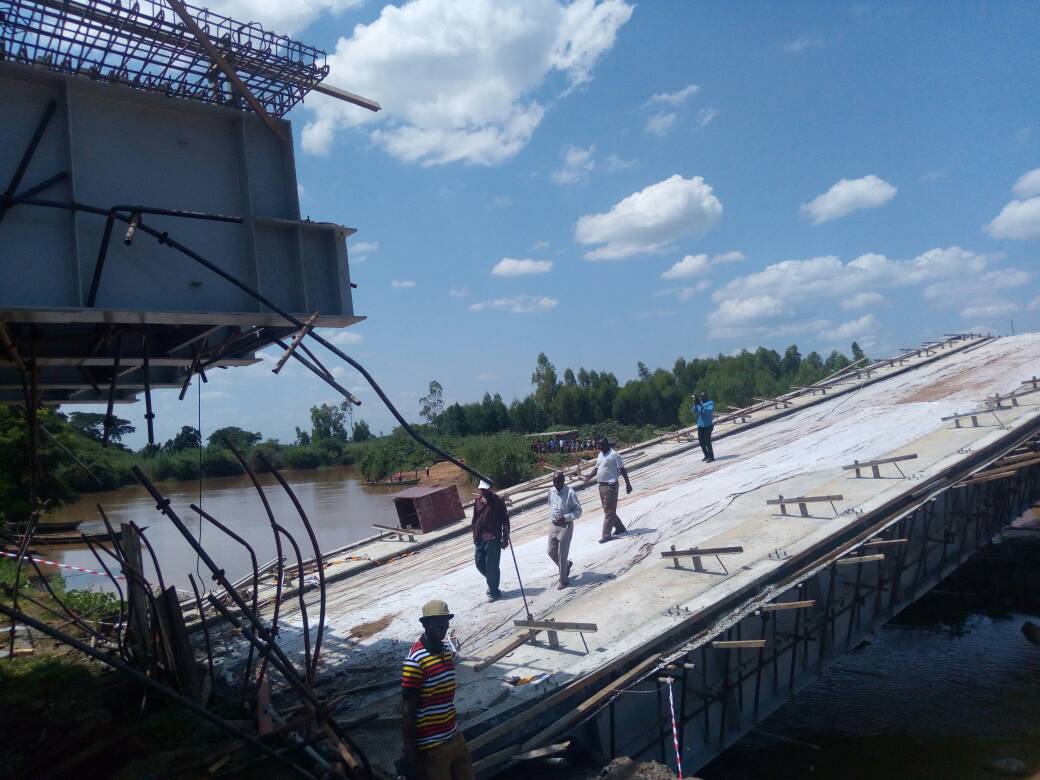 "This government should ensure that all the projects funded by taxpayers money be done with care but what is happening here, the same government that is supposed to be protecting the integrity of Kenyans is letting them down to gain political mileage.
The many deaths reported as Sigiri village in previous years was the major cause of constructing the bridge but building another hi-tech death trap in the name of bridge is unfair to the people of Busia County," she said.
Budalangi member of parliament Hon.Ababu Namwamba called on government agencies to come in and investigate the cause behind the collapse blaming NASA presidential candidate Raila Odinga and former area member of parliament Raphael Wanjala adding that the two are celebrating instead of joining with people of Budalangi in addressing the problem.
Busia County Administration Police Commander Elisha Odhiambo said two people were seriously injured in the tragedy and rushed to Nangina Mission hospital, while 25 others who were slightly injured were treated at Port Victoria hospital the released.
The commander said the cause of the accident has not been established, but they have launched investigations into the incident.
However, the manager, Chinese-based company behind the construction of the bridge Covec, Eng Jerome Azhuha noted that his company is ready to reconstruct the bridge afresh.