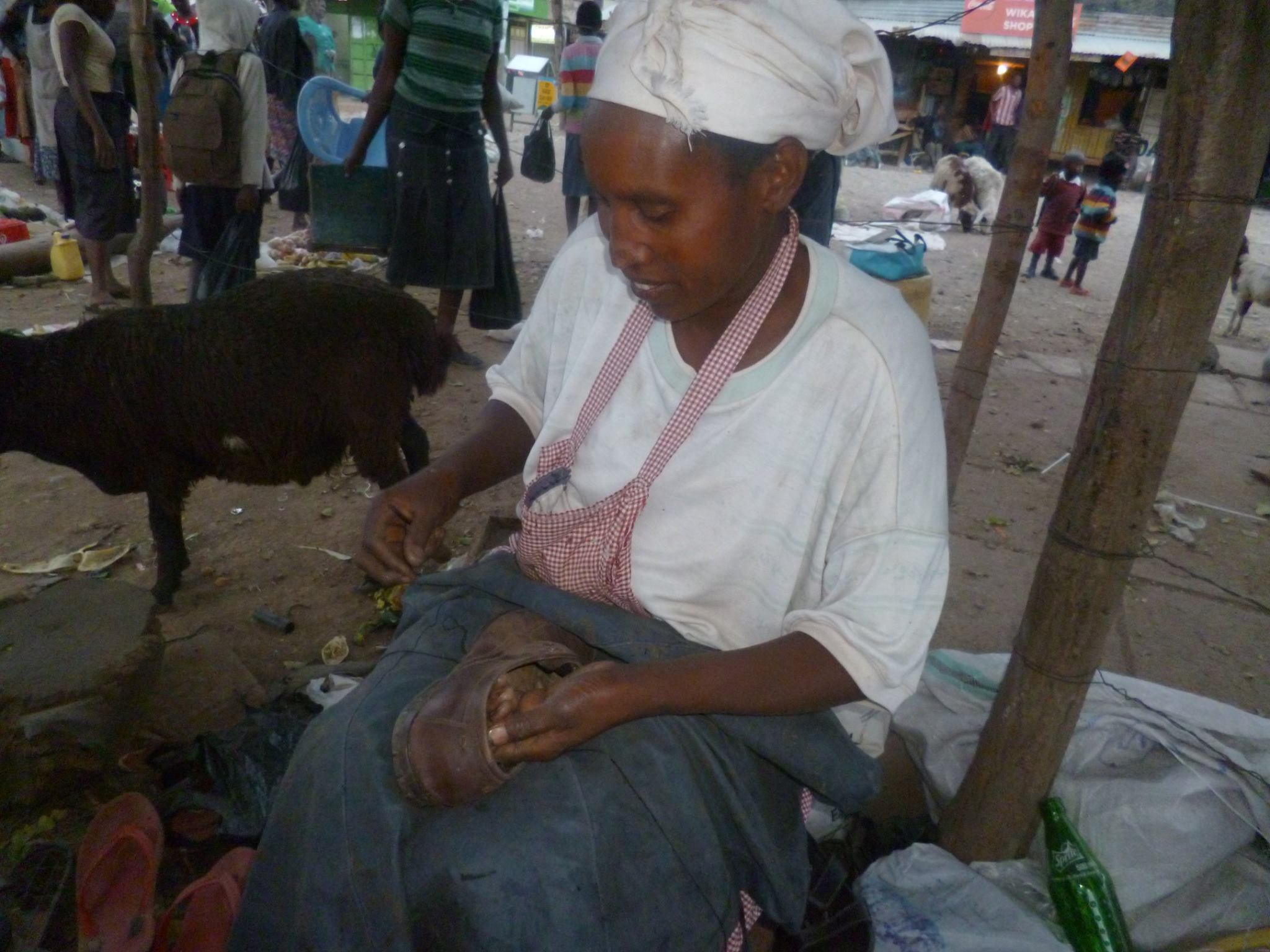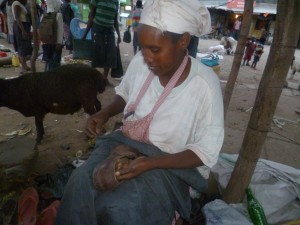 By Mary Mwendwa.
It is a busy market day, fresh fruits, vegetables, second hand clothes  are scattered in the noisy Marigat  market where Eunice Chepyegon, the only woman cobbler is busy sewing a brown torn shoe on her lap.
Dressed in a white  old T-shirt , head scarf and a  brown and white checked apron,33  year old  Eunice quickly smiles as customers stream in her make shift shop made of black plastic paper. Next to her is a man who is also a cobbler. She seems very comfortable with her work as she pierces a big needle with a brown string  on the edges of a shoe sole as she stitches tacking stitch .  A man comes in and they converse in Tugen language and later the man gives her Ksh 30 and she hands her a shoe . I inquire about her work and she gives me the story behind her successful cobbler business that is dominated by men.
"I started sewing shoes in 2006 after I was trained by my bother in law .By that time I was only selling shoe soles and I got interested in gaining the skill of sewing shoes. By then I was living in Kipsaraman and I started the business there until 2010 when I decided to move to this Marigat town where I have very many customers. One of the first challenge I had when I was being taught how to repair shoes was the front part of a shoe sole. That part was difficult for me to navigate with the needle.  I soldiered on until I became an expert .This kind of job is not envied by many women, as you can see iam the  only woman here but I make money just like any other person and above all iam  my own boss."A jovial Eunice narrates.
Her days start every 8.am in the morning and ends at 6 pm."I do many services in line with shoes.First I do shoe shining at Ksh 30 with kiwi shoe polish and I charge sh 50 for mixed polish. Sewing a torn shoe all round goes for ksh 150 and small tears range from sh 10 and above depending on the extent of the repair.One average I get at least 18 customers every day and make about 800 ksh and pay for the shop Ksh 20 every day to Baringo County Council .My business booms during rainy seasons and back to school days when most parents bring their children's shoes for repair in preparation for school opening."
Eunice, who was born in Kipsaraman Village, Kabartonjo, Barongo North recalls how people got so curious about her when they saw her in a male dominated kind of job.
 "Most women shy away from this kind of job, they fear they will be stigmatized and insulted by men.  This was not the case for me, in fact many people got thrilled by my work and they had to test my skill. I have never let anyone down, I satisfy my customers needs and that is a good thing to every business , not only this one , more so my  husband and my six children enjoy the fruits of my labor .They support me in every aspect and that has kept me going ."
Her work , just like any other has challenges too;"In this market there is a lot of dust because my shop is next to a road and generally this is a very dusty town. I have to cover my head always and also I get flu now and then. Another challenge is when I get too many customers with tight deadlines that I have to finish in a very short time and I do the work alone, that strains me at times but I can handle the pressure."
She is a member of a women group where she contributes Ksh 500 every month and this has enabled her save enough which has enabled her buy a piece of land in Marigat town where she currently lives with her family.
Kenya Economic Indicator Survey 2015 reported that around  800 thousand new jobs were created in 2014 . In total, new jobs created in the modern sector declined from 134 thousand in 2013 to 106 thousand in 2014. This deceleration was mainly due to the decreased activities in the agricultural sector and reduced absorption of employees in the Counties. The informal sector which constituted 82.7 per cent of the total employment, created 693.4 thousand new jobs in 2014. The total number of self employed and unpaid family workers within the modern sector was estimated to have increased from 83 thousand in 2013 to 103 thousand over the review period. This could partly be attributed to starting up of businesses by women and youth following access of grants and interest-free loans from programs such as Uwezo fund.