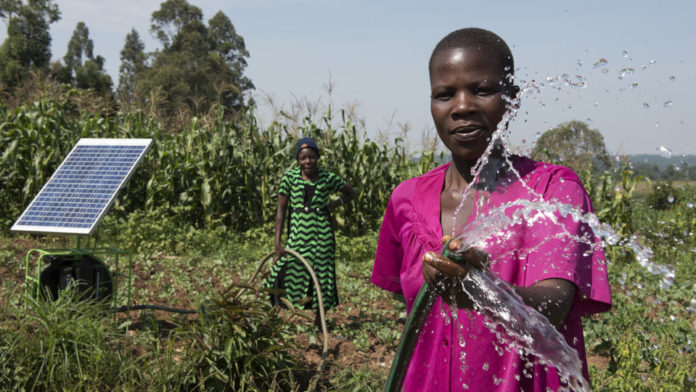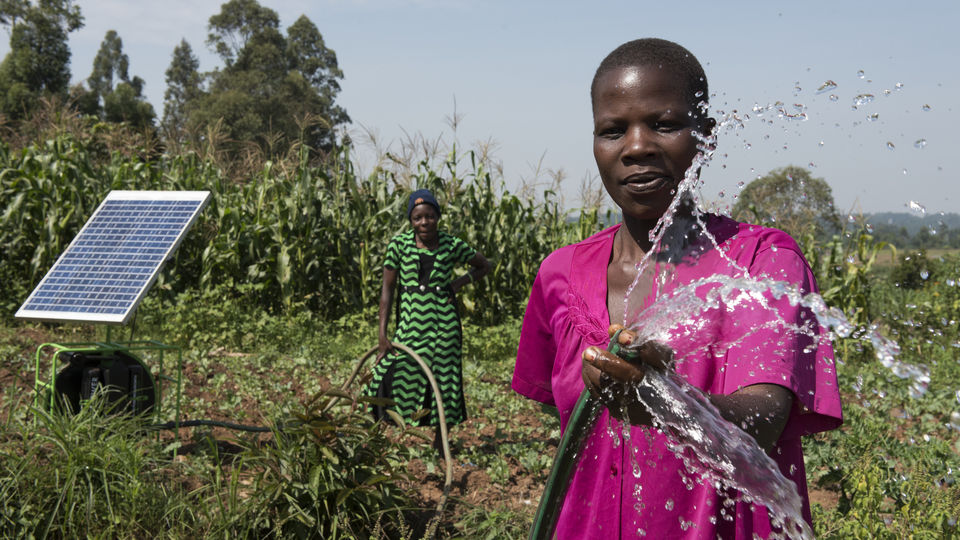 By Lilian Museka
Futurepump, a solar irrigation pump for smallholder farmers in Kenya has won the 2017 Ashden Award, the world's leading green energy awards for sustainable energy and water.
Futurepump makes a low-cost, highly efficient and portable solar irrigation pump that is used in the country and around the world, allowing farmers to reduce costs and increase their income by growing crops all year round
Millions of smallholder farmers rely on rainfall water to irrigate their crops. In Kenya alone, there are 7.5 million smallholder farmers and less than 2 percent farmland is irrigated This is becoming very unpredictable and they are turning to fuel-powered pumps that are expensive and pollute the environment. Irrigated farming mitigates against crop failure, improves food security and guarantees farmers income from sales of products throughout the year.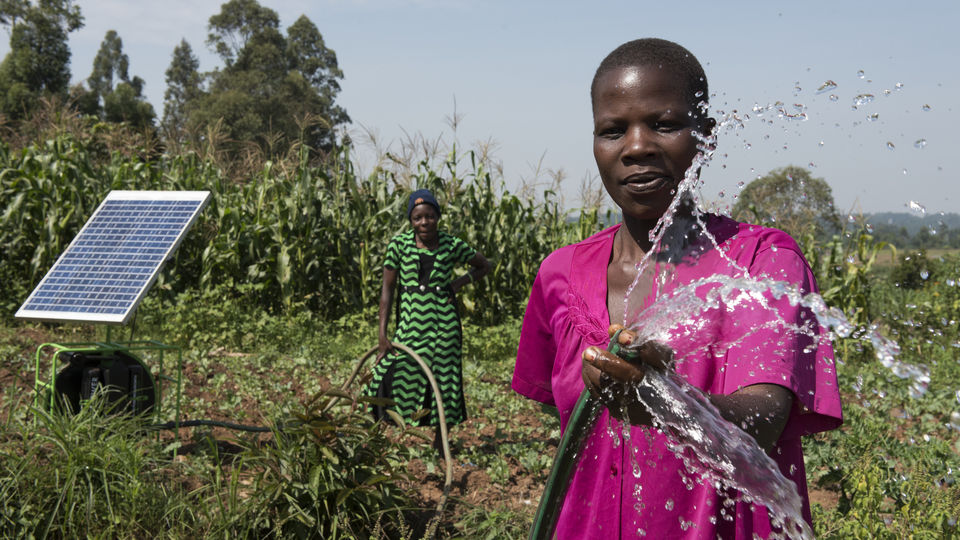 According to the Ashden judges: "Futurepump's pioneering solar-powered irrigation technology is helping smallholder farmers irrigate more land and leapfrog to year-round sustainable crop growing which is simultaneously increasing their productivity and income as well as allowing them to move away from polluting diesel," adding that "Portable solar-powered pumps are a cleaner, cheaper alternative that allow farmers to grow more crops during of the year,"
Futurepump, an Indian company manufactures its own brand Solar pump, SF1and ships to Africa either directly to the farmers or through distributors. Demonstrations are then done on farms, at market areas and agricultural shows. The SF1 is sold for Ksh. 65,000 (equivalent of $650), with farmers being allowed to pay in installments
Installation of the solar pumps is carried out by trained technicians who also provide end-user training. The SF1 comes with 24 months labour and spare parts warranty which ensures that the products are a good investment for smallholder farmers.
Other winners include Haileybury Youth Trust (HYT), an award for sustainable buildings. HYT is a charity organization training young people in Uganda to build using interlocking blocks made of compressed earth – a low-cost, carbon-saving alternative to the environmentally damaging fired brick.
Uganda has one of the fastest growing populations on earth, meaning that the requirement for new housing, schools, and other infrastructure is fueling mass deforestation due to the manufacture of fired clay bricks.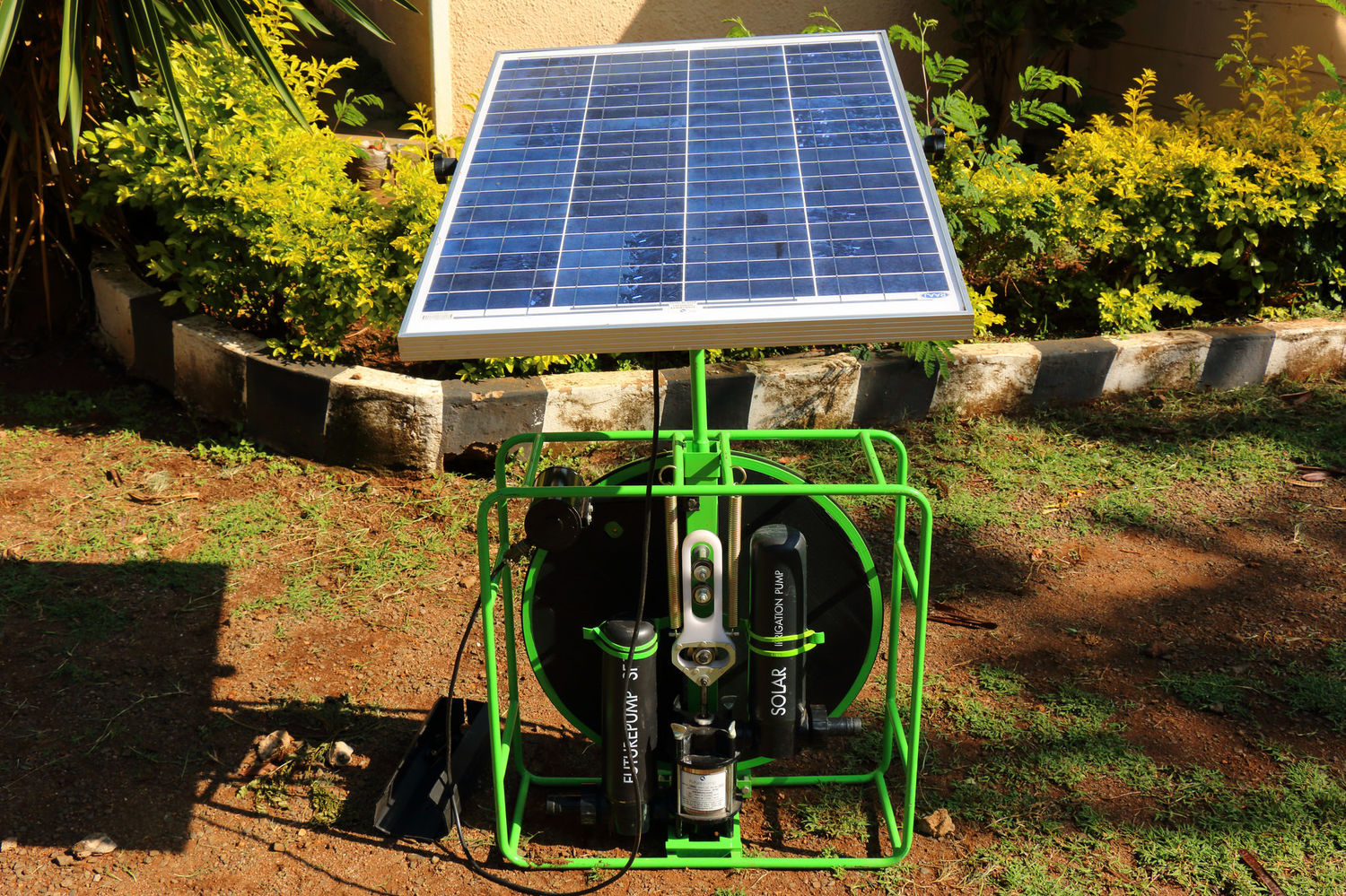 Through its training program, HYT is creating much-needed jobs for young people in local communities and the organization.
According to the Ashden judges: "The benefits of this scheme go way beyond the environmental impact – reducing deforestation and curbing CO2 emissions through a low carbon building technique – and encompass health, training and employment opportunities, even access to education.  HYT's model is a simple one but is scalable and robust."
Mobisol – winner of the Ashden Judges'Special Award – sells powerful solar home systems that allow customers to use fridges, watch TV and charge mobile phones without relying on fossil fuels, and using an affordable mobile payment plan.  Some 80,000 solar home systems have been installed in East Africa so far, benefitting more than 400,000 people.
Mobisol's high-power solar systems can be used not just for homes but for small businesses, enabling entrepreneurial customers to earn additional income.
The Ashden Awards are given to pioneers in sustainable energy and are a globally recognized measure of excellence. The winning organizations will receive their Award on Thursday 15 June at a  ceremony at the Royal Geographical Society in London. Former Vice-President of the US Al Gore is the keynote speaker and Channel 4 presenter Krishnan Guru-Murthy is hosting the Awards.
International Ashden Award winners receive £20,000 in prize money along with a tailored package of support to help scale up their work.
Funders of the 2017 Ashden Awards include Citi, Ecotricity, the Esmée Fairbairn Foundation, the Garfield Weston Foundation, Grosvenor, the IKEA Foundation, Impax Asset Management, Oak Foundation, UK aid, and the Waterloo Foundation.