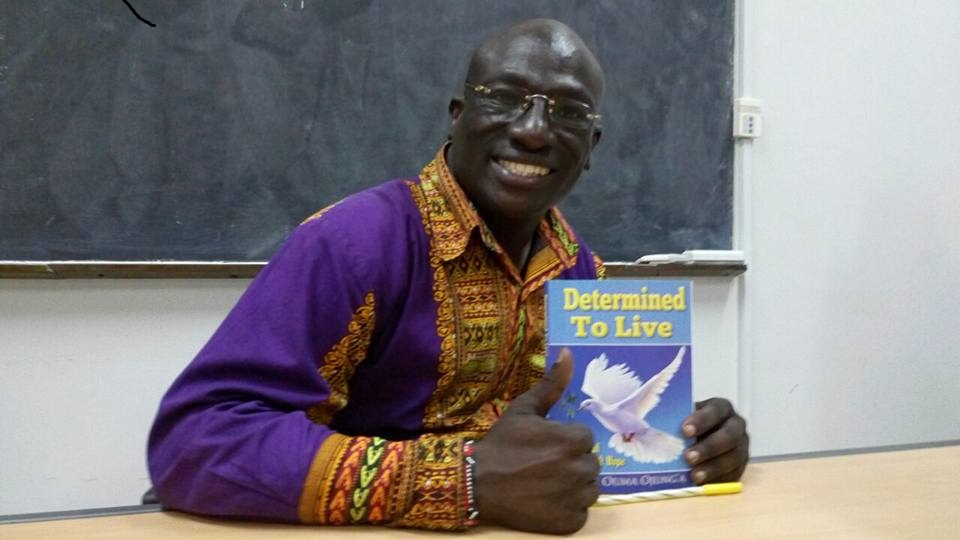 Book Review
By Mary Mwendwa
­­Title :  Determined To Live
Author :  Peter Ouma Ojung'a
Publisher :  Aura Books
ISBN: 9966 -099-08-2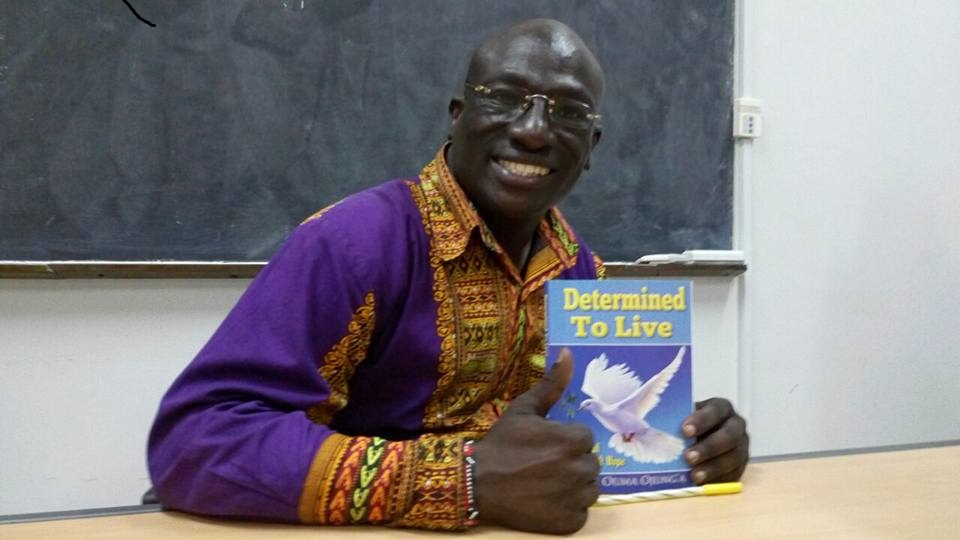 As the world prepares to celebrate worlds Aids Day on 1st December, there is so much to reckon  , one of them being the efforts that have been done to see the disease infection rates drop especially in the developing nations.
Kenya stands at 6 percent in terms of prevalence rates with around 1.6 million people living with the disease. Homabay, Siaya , Kisumu and Migori Counties have been on the red light with highest infection rates in the country.
One would innocently ask why these counties remain on top despite the efforts by development partners, NGOs, CBOs and Governments, both county and National to reduce the infections rates. There is no immediate answer , as most experts would allude, several factors come handy in this kind of scenario.
However, despite some of these grim statistics, science has brought light at the end of the tunnel. HIV patients, both children and adults can still live positively by adhering to the life prolonging drugs available.
A sneak flash back of how When HIV /AIDS was first detected in Kenya in 1984 saw many loose lives and leave behind families in desperation is a clear indicator if the strides we have made as a county in the fight against HIV/AIDS, HIV was seen as a killer, first killer and anyone who got infected with the disease was destined to the grave.
Thanks to the medical research that has been ongoing that saw medication that would reduce the viral load reduce in patients. Same gratitude goes to the researchers who came up with drugs that would see children living with AIDS live positively and enjoy the breath of life. Prof. Sobbie Mulindi Traces 30 Years of HIV in Kenya.
In his 152 paged book, Determined to Live  , which explicitly tells his life ,  tribulations ,how he has triumphed all odds  despite his HIV status to live positive and encourage those living with the virus and those without to take caution.
Determined to Live takes the reader through experiences that Peter Ouma went through when he painfully discovered his HIV status through a relationship where his partner faked an HIV certificate to show she was positive yet she was living with the Virus .
This is not fiction,it is a true life story, where the reader needs to be prepared by a warm glass of water or a soft drink for that matter.
Peter found healing in forgiveness, by forgiving his former partner and hanging on his spiritual life to see he gets to see another day and new life. It was a struggle, but as he would put it, he wanted to live, live positively and make a difference.
From losing  all   family members in mysterious circumstances is not any easy scenario that anyone would like to face, peter has survived this and he can openly afford a smile and hang on hope.
Peter calls to those in relationships to get tested severally and do the tests together in a health facility with professionals who are able to give advice.After reading this book, one gets really and really tempted to go to a VCT centre to get tested.Not because they are careless in their sexual life, but just to be sure of their status.What an impactful book!
This is just a beginning of his long journey fighting HIV and as usual the stigma, rejection and above all his social life which at some point led him into drinking.
Reading through this book I was reminded of a book by Dave Pelzer – A Man Called Dave- who was not HIV positive but who suffered in childhood and at some point he felt he had lost the fight. Dave's story reminded of Peter in  writing of Determined to Live.
Determined to Live breaks the circle of losing hope despite the magnitude of the challenge, and above all shows the desperate situations that people can go in seeking solutions to answers in life. Peter went to Loliondo, for prayers and tried new treatments to see he turns out to be negative. That never happened! His hope was rejuvenated instead.
He narrates his story on how he lost a teaching job in Eritrea due to his status. Heart Breaking in deed.
He gives a wake – up call to couples, parents, teenagers and anybody who interacts with people living with HIV/AIDS to give encouragement and above all NOT to discriminate those living with the virus.
Living with HIV is not easy, he warns!
Chapter by chapter he takes the readers breath through his life step by step through his powerful story telling skills. These chapters include.
-How I Knew About My HIV positive Status
-The 'Black Hole' Experiences
-The Dilemma of Disclosure
-Forgiveness and prayer Are Keys To Healing
-Deaths in the Family and Crumbling Marriages
-Seeking For an HIV Cure Through Prayers
-My Journey to Loliondo
-On the Verge of Death with TB
-Determined to Rise Against All Odds
-Message to the Teens and Youth
-Message to Adults and Couples
-Message to the Elderly
-Message to Everyone, Get Involved.